Independent Validation Testing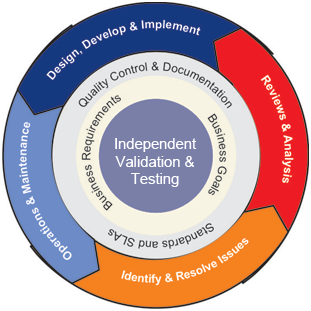 IT products are under constant changes due to stringent regulatory requirements, higher complexity applications and its downtime. More than half of all software projects fail to meet objectives or suffer significant schedule and/or budget slippage because defects are discovered too late. This increases the need for high quality and through testing of the application software. Gar's has its independent validation testing services to help the customer to overcome these restrains.
Gar's ensures lower operational risk due to business disruption & system failure and brings down the time to market through its skilled resource pool, robust processes and effective tool usage. We offer Structural Validation Testing or White-box testing services. Our highly effective White-box testing services cover the Unit and Integration Testing (open source/commercial tools), Automation of unit tests and daily-build testing, API testing, Development of frameworks for Unit/Integration/API testing.
Gar's test management services include:
Test Planning: Define the scope, effort and schedule of software testing
Test Designing: Capture the specific steps required to complete a given test
Test Execution: Run the tests by assembling sequences of test scripts into a suite of tests
Test Reporting: Analyze and communicate results of testing effort
Test Portfolio Management: Manage and continually improve the portfolio of testing activities with real-time status and issues reporting on a project status portal.