System Integration Services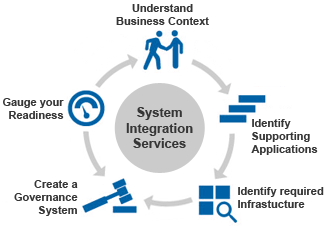 Managing multi-technology IT Projects and completing them within a fixed schedule and cost is essential for getting the expected return on investment. Considering the complexity of the tasks involved and the necessary combination of Technology and Project Management skills, most businesses have now decided to outsource the entire IT work of system design, hardware, software procurement, implementation, (EI) Enterprise integration,(SIS) System Integration Services testing & roll out work to IT services organisations like us.
This turnkey execution of IT Projects is referred to as Systems Integration. Our Systems Integration Group combines Gar's project management skills with Gars's experience in delivery of high quality and reliable IT services in (SIS) System Integration, (EI) Enterprise integration and various other domains. Collectively, we present end to end solutions in ERP, Business Intelligence/Data Warehousing (BI/DW), middleware and infrastructure management to offer high value Systems Integration services. Thanks to our unique 'Business to IT connect', we offer unmatched value proposition in matching our customers' needs with system requirements.
A heady mix of the latest technology with domain expertise from industry verticals makes us impeccable in simultaneous multi-location project execution with lower gestation periods due to reduced coordination delays. We bring together discrete systems utilising a variety of techniques such as computer networking, enterprise application integration and business process management with our ULS and form engine to aid our customers build a distinct competitive advantage.